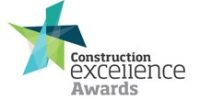 A Track Record of Success!
William & Henry Alexander (Civil Engineering) Ltd have received CEF nominations in 2008, 2009 and 2010! In 2008 the company was nominated for the Environmental Sustainability Award for works at the Slieve Divena Wind Farm.
In 2009 we were nominated as a Finalist for the Infrastructure Utilities Award for the Hunters Hill Wind Farm while in 2010 we were a finalist for both the Transport Infrastructure Award and Health and Safety Award for works on the Omagh River Walk development.